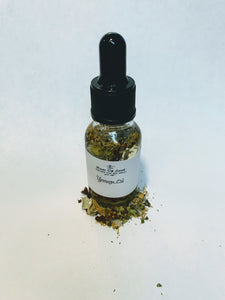 Yemaya Orisha Oil Offerings Hoodoo Rootwork Conjure
(Roots, Oils, Herbs
Mugwort,
Meadow sweet
, Vetivert and more)
Yemaya Orisha  Oil come is conjured with powerful roots and oils for your intentions to connect with this beautiful Orisha goddess known for the energy of mermaids on New moons and Full moons. You can use this oil and compliment your offerings to her or help connect to her. The Yemaya oil created here is made with pure herbs, and roots with oils that smell divine. 
USES
THIS OIL IS GREAT TO USE ON YOUR ALTAR OR QUIET SPACE AS YOU PETITION WITH THOUGHTS ABOUT YOUR INTENTIONS TO CONNECT WITH YEMAYA AND MANIFESTING IN YOUR LIFE. WIPE DOWN YOUR ALTAR WITH THE OIL, OR BATHE WITH IT IN YOUR WATER. RUB SOME ON A BLUE CANDLE AND PLACE IT ON YOUR ALTAR TO BURN AS YOU PRAY TO HER.
CONSIDER A MONEY AND ABUNDANCE BATH SALTS MIX FROM ROOTS OF EARTH TO COMPLIMENT YOUR  ABUNDANCE MEDITATIONS , OR RECONCILIATION INTENTIONS WITH SOMEONE YOU MISS, BANISHING AWAY OLD CORDS AND ATTACHMENTS TO HELP HEAL, OR LOVE AND ROMANCE, ROAD OPENING TO HAVE MORE SUCCESS AND HAPPINESS.  



ABOUT US

 





QUALITY, NON GMO, ROOT & HERBAL APOTHECARY! WE HONOR ORIGINAL TRUE TRADITIONS, IN SUN AND MOONLIGHT TO CREATE ROOTS OF EARTH OILS, SOAPS, SPRAYS,LOTIONS, CANDLES, AND FLOOR WASHES; FOR YEARS. FROM LOUISIANA AND NOW NORTHERN MICHIGAN. SPECIALS HAPPEN EACH MONTH SO FOLLOW US FOR DEALS. 



DISCOUNTS

 


ROOTS10 IS THE CODE TO USE AT CHECKOUT AND SAVE 10%
*ALL PRODUCTS ARE SOLD AS CURIO, AND NOT INTENDED TO DIAGNOSE, OR SERVE AS TREATMENT FOR MENTAL, PHYSICAL, OR LEGAL ISSUES. OUTCOMES ARE NOT THE RESPONSIBILITY OF ROOTS OF EARTH. 
 HAVE A BEAUTIFUL DAY AND COME AGAIN! 
LOVE FROM ALL OF US,