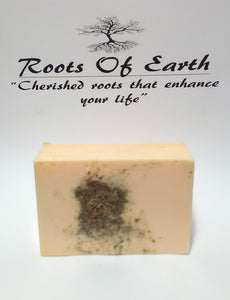 Van Van Soap
Van Van Rootwork Soap, 4 oz
TURN SITUATIONS AROUND
TRUE ORIGINAL INGREDIENTS OF
VAN VAN IN SHEA BUTTER SOAP
The rootwork magick soaps at Roots Of Earth are made with Shea butter that is great for your skin and cherished roots and honored traditions. Experience this soap in your bath or shower! It contains African Shea Butter, Coconut Oil, Essential Oil Blend, Vegetable Glycerin, Vitamin E; never skimping on the oils or roots and herbs that are hand ground, hand blended, and made to order. These soaps are made in batches and then honored with moon energy and prayer for your highest good. 
USES 
Bathe with these soaps while visualizing your intentions and desires. Try the soaps before meetings, date nights, prayers or rituals/spells/conjure workings. Start off with the soaps and finish off with the complimenting luxury lotion here at Roots Of Earth.
ABOUT US 
QUALITY, NON GMO, ROOT & HERBAL APOTHECARY! WE HONOR ORIGINAL TRUE TRADITIONS, IN SUN AND MOONLIGHT TO CREATE ROOTS OF EARTH OILS, SOAPS, SPRAYS,LOTIONS, CANDLES, AND FLOOR WASHES; FOR YEARS. FROM LOUISIANA AND NOW NORTHERN MICHIGAN. SPECIALS HAPPEN EACH MONTH SO FOLLOW US FOR DEALS.
 DISCOUNTS
AT ROOTS OF EARTH THERE IS A DISCOUNT CODE OF "ROOTS10" TO USE AT CHECKOUT FOR ALL ITEMS IN YOUR CART. YOU MAY FIND THE PERFECT ROOTS OF EARTH KIT THAT CONTAINS YOUR FAVORITE COMBINATION OF OILS, FLOOR WASHES, SOAPS, AND LOTIONS.
*ALL PRODUCTS ARE SOLD AS CURIO, AND NOT INTENDED TO DIAGNOSE, OR SERVE AS TREATMENT FOR MENTAL, PHYSICAL, OR LEGAL ISSUES. OUTCOMES ARE NOT THE RESPONSIBILITY OF ROOTS OF EARTH.
HAVE A BEAUTIFUL DAY AND COME AGAIN!
              LOVE FROM ALL OF US,
         ROOTS OF EARTH