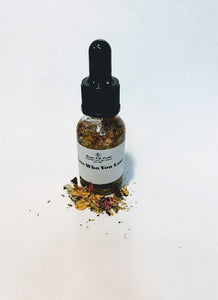 Two Queens Oil Love Who You Love LGBTQ Oil For Attraction Lesbian Empowerment By Roots Of Earth
TWO QUEENS OIL LOVE WHO YOU LOVE
BY ROOTS OF EARTH 1/2 OUNCE 
TWO QUEENS OIL IS AN OIL CREATED TO HELP ATTRACT A WOMAN AND EMPOWER THE LGBTQ RELATIONSHIP SO YOU CAN ENHANCE THE LOVE OF THE ONE YOU LOVE!
AFTER REQUESTS OF THIS OIL IT IS HERE. ALSO CHECK OUT THE LOVE WHO YOU LOVE CANDLES WITH BEAUTIFUL HERBS AND ROOTS FOR ATTRACTING THE ONE YOU LOVE OF YOUR DESIRES.
ITS FILLED WITH  ROOTS AND HERBS THAT SMELL WONDERFUL AS WELL; JASMINE, LICORICE, CATNIP, MINT, ROSE, AND A FEW OTHER INGREDIENTS. 
USES
DAB THE COME TO ME OIL ON YOUR SKIN, IN YOUR BATH WATER, ON YOUR SHOE, IN YOUR LOVE MOJO BAG, PUT A FEW DROPS ON A FAVORITE CLOTH AND CARRY IT WITH YOU; RUB IT ON YOUR PINK CANDLES, DAB IT ON YOUR PETITION PAPERS OF YOUR INTENTIONS AND FOLD IT TOWARDS YOU AND PLACE IT UNDER YOUR CANDLES AS THEY BURN..
ABOUT US
QUALITY, NON GMO, ROOT & HERBAL APOTHECARY! WE HONOR ORIGINAL TRUE TRADITIONS, IN SUN AND MOONLIGHT TO CREATE ROOTS OF EARTH OILS, SOAPS, SPRAYS,LOTIONS, CANDLES, AND FLOOR WASHES; FOR YEARS. FROM LOUISIANA AND NOW NORTHERN MICHIGAN. SPECIALS HAPPEN EACH MONTH SO FOLLOW US FOR DEALS.
DISCOUNTS
AT ROOTS OF EARTH THERE IS A DISCOUNT CODE OF ROOTS10 TO USE A CHECKOUT FOR ALL ITEMS IN YOUR CART. YOU MAY FIND THE PERFECT ROOTS OF EARTH KIT THAT CONTAINS YOUR FAVORITE COMBINATION OF OILS, FLOOR WASHES, SOAPS, AND LOTIONS.
*ALL PRODUCTS ARE SOLD AS CURIO, AND NOT INTENDED TO DIAGNOSE, OR SERVE AS TREATMENT FOR MENTAL, PHYSICAL, OR LEGAL ISSUES. OUTCOMES ARE NOT THE RESPONSIBILITY OF ROOTS OF EARTH.
HAVE A BEAUTIFUL DAY AND COME AGAIN!
LOVE FROM ALL OF US,
ROOTS OF EARTH