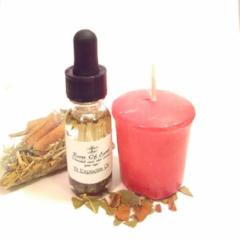 St Expedite Oil Kit Complete Roots Oil Candle For Emergencies and Help By Roots OF Earth
Regular price $13.99 Sale
St. Expedite Kit roots herbs 1/2 Oil red votive candle
St. expedite is a wonderful saint to petition and help empower your hoodoo and conjure when you are in need to have relief quickly. This kit is complete with the roots and herbs that are used in offerings to St. Expedite inside the pouch. The oil is a popular seller here at Roots Of Earth and is already conjured and contains all the herbs, roots, and oils associated with St Expedite, and the candle is red to help with the quick needs you have. 
USES
TO PETITION ST EXPEDITE YOU CAN USE RED CANDLES ANOINTED IN THIS OIL, OR DAB THE PETITION PAPERS FOR YOUR NEEDS WITH IT AND FOLD IT TOWARDS YOU. REMEMBER TO LEAVE OUT ALLSPICE, OR POUND CAKE FOR ST EXPEDITE WHEN HE HAS HELPED YOU. HE WAS A SOLDIER AND EXPECTS TO BE PAID FOR HIS GOOD WORK. NEVER FORGET TO THANK HIM PUBLICLY WHEN HE HAS HELPED YOU SO SWIFTLY AND WITH WHAT YOU ASKED FOR.
GUIDANCE
WE ALL HAVE QUESTIONS AND MAY CONSIDER A CONSULTATION FOR HELP WITH CIRCUMSTANCES. AT ROOTS OF EARTH AUNTIE ROSALIND IS AVAILABLE AND OUR RECOMMENDED ROOTWORK, AND SHAMANIC HEALER. ITS WORTH THE EXTRA TIME TO LOOK INTO RECURRENT ISSUES, OR BLOCKS IN YOUR LIFE. AUNTIE ROSALIND HAS OVER 13 YEARS EXPERIENCE WITH HELPING AND VARIOUS OPTIONS FOR YOU. VIEW THE SESSIONS AND ROOTWORK OPTIONS AVAILABLE FOR YOUR ABUNDANCE, CAREER, LOVE, OR BLOCKED PATHS. 
ABOUT US 
QUALITY, NON GMO, ROOT & HERBAL APOTHECARY! WE HONOR ORIGINAL TRUE TRADITIONS, IN SUN AND MOONLIGHT TO CREATE ROOTS OF EARTH OILS, SOAPS, SPRAYS,LOTIONS, CANDLES, AND FLOOR WASHES; FOR YEARS. FROM LOUISIANA AND NOW NORTHERN MICHIGAN. SPECIALS HAPPEN EACH MONTH SO FOLLOW US FOR DEALS.
 DISCOUNTS
AT ROOTS OF EARTH THERE IS A DISCOUNT CODE OF "ROOTS10" TO USE AT CHECKOUT FOR ALL ITEMS IN YOUR CART. YOU MAY FIND THE PERFECT ROOTS OF EARTH KIT THAT CONTAINS YOUR FAVORITE COMBINATION OF OILS, FLOOR WASHES, SOAPS, AND LOTIONS.
*ALL PRODUCTS ARE SOLD AS CURIO, AND NOT INTENDED TO DIAGNOSE, OR SERVE AS TREATMENT FOR MENTAL, PHYSICAL, OR LEGAL ISSUES. OUTCOMES ARE NOT THE RESPONSIBILITY OF ROOTS OF EARTH. 
HAVE A BEAUTIFUL DAY AND COME AGAIN!
              LOVE FROM ALL OF US,
         ROOTS OF EARTH