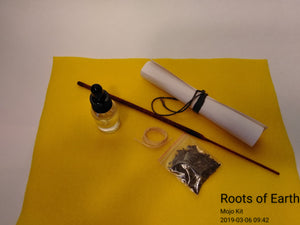 Road Opener Mojo Bag Kit Complete With All Instructions
Regular price $15.00 Sale
Road Opener Mojo Kit Complete with Instructions 
USES 
Roots of Earth Road Opener mojo kits are created with everything you need to conjure, create, and bring your bag to life.
This Road Opener mojo kit comes with complete instructions, and ingredients for opening new paths in your life and what you are working.
This Road Opener Mojo Kit Has :
Roots and herbs aligned with road opening
Oils in 1/2 bottle to feed your bag
Incense to help with your mojo work
Instructions on the steps of mojo creation
Flannel to make your mojo bag
Don't to tie your bag
Candle for working your bag
HISTORY
In the folk belief traditions of hoodoo and conjure,  a mojo, is like a portable, and live manifesting altar! It usually consists of a flannel bag containing one or more magical items. It is a "prayer in a bag", or a spell that can be carried with or on the host's body.
Alternative American names for the mojo bag include hand, mojo hand, conjure hand, lucky hand, conjure bag, trick bag, root bag, toby, jomo, and gris-gris bag.
The term mojo is now commonly used in the English language to mean one's personal talent or gift. For example, a person might say that they are "getting their mojo on" when trying to get the attention of a possible mate.
ABOUT US 
QUALITY, NON GMO, ROOT & HERBAL APOTHECARY! WE HONOR ORIGINAL TRUE TRADITIONS, IN SUN AND MOONLIGHT TO CREATE ROOTS OF EARTH OILS, SOAPS, SPRAYS,LOTIONS, CANDLES, AND FLOOR WASHES; FOR YEARS. FROM LOUISIANA AND NOW NORTHERN MICHIGAN. SPECIALS HAPPEN EACH MONTH SO FOLLOW US FOR DEALS. 
DISCOUNTS 
AT ROOTS OF EARTH THERE IS A DISCOUNT! CHECK FOR ALL ITEMS IN YOUR CART. YOU MAY FIND THE PERFECT ROOTS OF EARTH KIT THAT CONTAINS YOUR FAVORITE COMBINATION OF OILS, FLOOR WASHES, SOAPS, BATH SALTS, MOJO KITS, AND LOTIONS. 
*ALL PRODUCTS ARE SOLD AS CURIO, AND NOT INTENDED TO DIAGNOSE, OR SERVE AS TREATMENT FOR MENTAL, PHYSICAL, OR LEGAL ISSUES. OUTCOMES ARE NOT THE RESPONSIBILITY OF ROOTS OF EARTH. 
 HAVE A BEAUTIFUL DAY AND COME AGAIN! 
LOVE FROM ALL OF US, 
Roots Of Earth