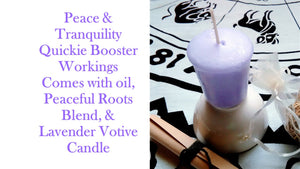 Peace and Tranquility in Self or Situation Quickie Booster Working By Roots Of Earth
Regular price $26.00 Sale
 Workings Booster
We all get busy with life sometimes and want things done in a quicker fashion. The reason for boosters in rootwork or conjure is to give you a faster completion time; even though results come when they will. If you feel this quicker completion time is good for you message us.
Please contact us directly for instructions after purchasing this quickie working kit rootzofearth@gmail.com; Aunt Rosalind is available to complete your order personally before its shipped to you...this conjure is intense and requires your focus so be sure of what you need peace and tranquility on in your life. Yes, this does include a situation with another person as well...numerous areas may affect you and make you feel the need for peace in life. 
This kit comes with a charged lavender/lt blue votive, a 1/2 oz Peace Oil, and blended roots for Peace & Tranquility and also instructions for you to follow. Please allow up to 3 days preparation time before shipping.
GUIDANCE
We all have questions and may consider a consultation for help with circumstances. Aunt Rosalind is available at Roots Of Earth and recommended in root work, and shamanic healing. It is worth the time to look into recurrent issues, blocks, and patterns in your life; and Aunt Rosalind has over 13 years' experience with helping and non judgmental various options for you. As a trained Family Dynamics worker, and Counselor she is available to you for abundance, career, love, and family issues that require spirit, ancestors, shamanic healing, and root work services.
ABOUT US
Roots Of Earth was born purely from a higher guided sequence of light, ancestral visits, meditations, and downright visions of A root work apothecary to help heal our modern day need to realign to this beautiful earth rhythm. It is still possible to connect to what all of our ancestors knew so long ago. Time with conjure, roots, focusing on intentions of healing, and walking a better path can solve anything. With our New Orleans ancestors and guidance from Aunt Rosalind we forged ahead to do what right in our souls.
Please remember that all products here are non gmo and we have quite a nice selection of items to suit what you are looking for. Moon phases, pure roots, therapeutic grade essential oils, and even mortar and pestle are utilized here at Roots OF Earth when producing our products.
DISCOUNTS
At Roots OF Earth we offer a discount code of 10% at checkout. Enter ROOTS10 at checkout and use it whenever you come back, nice and simple! It can be applied to all items in your car…lotions, oils, floor washes, soaps, or kits. If you have any questions on custom products please message us.
*ALL PRODUCTS ARE SOLD AS CURIO, AND NOT INTENDED TO DIAGNOSE, OR SERVE AS TREATMENT FOR MENTAL, PHYSICAL, OR LEGAL ISSUES. OUTCOMES ARE NOT THE RESPONSIBILITY OF ROOTS OF EARTH.
Have a beautiful day and come again!
Love From All Of Us,
Roots OF Earth