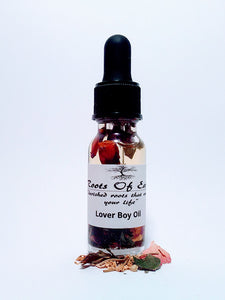 LOVE POWER OIL FOR MEN SEDUCTION ATTRACTION BY ROOTS OF EARTH
LOVER POWER OIL FOR MEN 1/2 OUNCE BY ROOTS OF EARTH  
Love Power OIL by Roots Of Earth is created specifically for men that are dating or seeking a woman to entice with some passion.  This is a compelling seductive oil. This oil is created with Vetiver, Sesame, and other herbs that are known to increase and entice passion. 
Uses
You can put some of this on your neck or your pulse points; or traditionally in conjure you can put some in your bath water. Dab it on your handkerchief that you are carrying in your wallet, or pocket you can also dab some on the heel of your shoe to attract more friends when you are out. You could wear this on a date or when you feel you will be around the person that you want to entice. You can even put some in your bedroom dabbing it on the edge of a sheet if you feel romantic and passionate.  
QUALITY, NON GMO, ROOT & HERBAL APOTHECARY! WE HONOR ORIGINAL TRUE TRADITIONS, IN SUN AND MOONLIGHT TO CREATE ROOTS OF EARTH OILS, SOAPS, SPRAYS,LOTIONS, CANDLES, AND FLOOR WASHES; FOR YEARS. FROM LOUISIANA AND NOW NORTHERN MICHIGAN. SPECIALS HAPPEN EACH MONTH SO FOLLOW US FOR DEALS.
 DISCOUNTS
AT ROOTS OF EARTH THERE IS A DISCOUNT CODE OF "ROOTS10" TO USE AT CHECKOUT FOR ALL ITEMS IN YOUR CART. YOU MAY FIND THE PERFECT ROOTS OF EARTH KIT THAT CONTAINS YOUR FAVORITE COMBINATION OF OILS, FLOOR WASHES, SOAPS, AND LOTIONS.
*ALL PRODUCTS ARE SOLD AS CURIO, AND NOT INTENDED TO DIAGNOSE, OR SERVE AS TREATMENT FOR MENTAL, PHYSICAL, OR LEGAL ISSUES. OUTCOMES ARE NOT THE RESPONSIBILITY OF ROOTS OF EARTH.
HAVE A BEAUTIFUL DAY AND COME AGAIN!