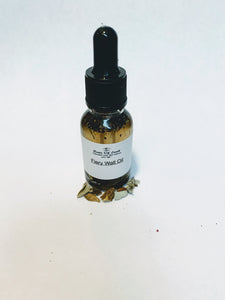 Fiery Wall of Protection Oil Create Barrier Of Protection Hoodoo
FIERY WALL OIL 1/2 OUNCE BY ROOTSOFEARTH

 
ROOTS OF EARTH FIERY WALL OIL IS A BLEND OF SPICES, ROOTS AND PROTECTION HERBS TO HELP BUILD

 

A WALL OF PROTECTION AROUND YOU. EVEN PROPERTY TO KEEP NEGATIVE ENERGY OUT AND PEOPLE WITH ILL INTENT. IT THE ORIGINAL V CONJURE ROOTWORK BLEND. IT ALSO SMELLS WONDERFUL BUT YOU NEED GLOVES TO USE IT!
USES
THE USE OF THIS OIL IS AWESOME ON PRAYER PETITIONS TO PROTECT YOUR PROPERTY, AND CREATE A BARRIER IN YOUR ENERGY FROM ENERGY VAMPIRES. DAB IT ON BLACK CANDLES AND ON YOUR PRAYER PETITIONS AND FOLD IT AND PUT IT UNDER THE CANDLE. READ PSALMS 69 AND MIX IT WITH A LITTLE AMMONIA AND WIPE DOWN DOORS AND WINDOWS.
ABOUT US 
QUALITY, NON GMO, ROOT & HERBAL APOTHECARY! WE HONOR ORIGINAL TRUE TRADITIONS, IN SUN AND MOONLIGHT TO CREATE ROOTS OF EARTH OILS, SOAPS, SPRAYS,LOTIONS, CANDLES, AND FLOOR WASHES; FOR YEARS. FROM LOUISIANA AND NOW NORTHERN MICHIGAN. SPECIALS HAPPEN EACH MONTH SO FOLLOW US FOR DEALS.
*ALL PRODUCTS ARE SOLD AS CURIO, AND NOT INTENDED TO DIAGNOSE, OR SERVE AS TREATMENT FOR MENTAL, PHYSICAL, OR LEGAL ISSUES. OUTCOMES ARE NOT THE RESPONSIBILITY OF ROOTS OF EARTH.
HAVE A BEAUTIFUL DAY AND COME AGAIN!