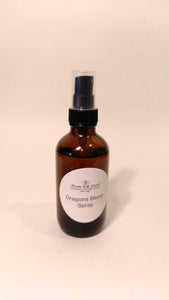 Dragons Blood Body Spray or Room Wealth Power Queendom By Roots Of Earth
Regular price $11.00 Sale
Dragons Blood Spray 6 OZ BY Roots Of Earth
Protection Love Strength
6 oz Spray 
Dragons Blood Spray is used for protection, strength, love and is conjured with other herbs and roots to empower your energy and help prepare you and your space for even more rituals, and conjure work of your own...align to your inner strength of having the energy and environment you want; while increasing your strength and protection. Included in the dragons blood mixture is a few more ingredients to make a beautiful scent. This blend has scent without the oily heavy feeling on your skin. Roots Of Earth cares about tradition and true ingredients in the magic sprays and they are created with love.
USES
 This is a great spray to use after the bath, when going out to feel balance and moisture on your skin, before your rituals and prayers. During the day when you need quick balance, when you feel its time to reaffirm your thoughts, goals, or intentions
GUIDANCE

WE ALL HAVE QUESTIONS AND MAY CONSIDER A CONSULTATION FOR HELP WITH CIRCUMSTANCES. AT ROOTS OF EARTH AUNTIE ROSALIND IS AVAILABLE AND OUR RECOMMENDED ROOTWORK, AND SHAMANIC HEALER. ITS WORTH THE EXTRA TIME TO LOOK INTO RECURRENT ISSUES, OR BLOCKS IN YOUR LIFE. AUNTIE ROSALIND HAS OVER 13 YEARS EXPERIENCE WITH HELPING AND VARIOUS OPTIONS FOR YOU. VIEW THE SESSIONS AND ROOTWORK OPTIONS AVAILABLE FOR YOUR ABUNDANCE, CAREER, LOVE, OR BLOCKED PATHS.
 
ABOUT US 
QUALITY, NON GMO, ROOT & HERBAL APOTHECARY! WE HONOR ORIGINAL TRUE TRADITIONS, IN SUN AND MOONLIGHT TO CREATE ROOTS OF EARTH OILS, SOAPS, SPRAYS,LOTIONS, CANDLES, AND FLOOR WASHES; FOR YEARS. FROM LOUISIANA AND NOW NORTHERN MICHIGAN. SPECIALS HAPPEN EACH MONTH SO FOLLOW US FOR DEALS.
 DISCOUNTS
AT ROOTS OF EARTH THERE IS A DISCOUNT CODE OF "ROOTS10" TO USE AT CHECKOUT FOR ALL ITEMS IN YOUR CART. YOU MAY FIND THE PERFECT ROOTS OF EARTH KIT THAT CONTAINS YOUR FAVORITE COMBINATION OF OILS, FLOOR WASHES, SOAPS, AND LOTIONS.
*ALL PRODUCTS ARE SOLD AS CURIO, AND NOT INTENDED TO DIAGNOSE, OR SERVE AS TREATMENT FOR MENTAL, PHYSICAL, OR LEGAL ISSUES. OUTCOMES ARE NOT THE RESPONSIBILITY OF ROOTS OF EARTH.
HAVE A BEAUTIFUL DAY AND COME AGAIN!
  LOVE FROM ALL OF US,
ROOTS OF EARTH