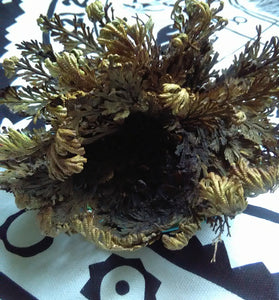 Rose Of Jericho Magic Plant By Roots Of Earth
Regular price $12.00 Sale
Rose Of Jericho Magickal Prosperity Plant
*To learn more about us read below
Rose of Jericho plant is magical in our eyes here at Roots Of Earth as with others who utilize this non dying, and water misting plant. It actually opens and closes depending on the moisture of it; and It does not require any kind of potting into soil. When it arrives to you it may surprise you because it will look like rolled dead tumble weed! Never mind that and dont worry. Just mist it well and notice within hours it has expanded and shows the hidden inner green leaves that resemble evergreen trees. Some people use this plant to bloom their abundance and money over and over again. Your Rose of Jericho will come with instructions and please have fun with this beautiful and fun magic plant! 
ABOUT US 
Roots Of Earth was born purely from a higher guided sequence of light, ancestral visits, meditations, and downright visions of A root work apothecary to help heal our modern day need to realign to this beautiful earth rhythm. It is still possible to connect to what all of our ancestors knew so long ago. Time with conjure, roots, focusing on intentions of healing, and walking a better path can solve anything. With our New Orleans ancestors and guidance from Aunt Rosalind we forged ahead to do what right in our souls.
Please remember that all products here are non gmo and we have quite a nice selection of items to suit what you are looking for. Moon phases, pure roots, therapeutic grade essential oils, and even mortar and pestle are utilized here at Roots OF Earth when producing our products. 
DISCOUNTS 
At Roots OF Earth we offer a discount code of 10% at checkout. Enter ROOTS10 at checkout and use it whenever you come back, nice and simple! It can be applied to all items in your car…lotions, oils, floor washes, soaps, or kits. If you have any questions on custom products please message us. 
*ALL PRODUCTS ARE SOLD AS CURIO, AND NOT INTENDED TO DIAGNOSE, OR SERVE AS TREATMENT FOR MENTAL, PHYSICAL, OR LEGAL ISSUES. OUTCOMES ARE NOT THE RESPONSIBILITY OF ROOTS OF EARTH.
Have a beautiful day and come again!
Love From All Of Us,
Roots OF Earth