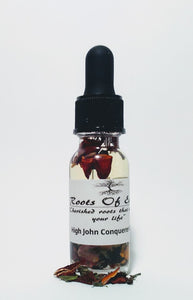 HIGH JOHN THE CONQUEROR OIL FOR OVERCOMING BY ROOTS OF EARTH
HIGH JOHN CONQUEROR OIL 1/2 OUNCE BY ROOTS OF EARTH 
High John conqueror oil by roots of earth contains the master root of John conqueror. The history of High John The Conqueror is that he was a Free Man, and a time when things were very hard; almost insurmountable. He  managed to conquer all that came for him to try and take him down and diminish his abilities. This powerful master root (john conqueror root) is added in with other ancient oils cedar, sandalwood, vetiver, and bergamont. This oil is very sought-after due to the legend of John the Conqueror and the need for tough obstacles to be broken through quickly and powerfully with this master root oil.
USES 
You can dab some High John The Conqueror Oil on your skin and carry some with you you. You can even dab some on your money or petition for money. Use with green candles, gold/silver candles to try for more abundance; it is a very versatile oil because of his power. Some use it for seduction oil or for a road opening or even a spell-breaker oil. Some of the old traditions says to put some on a railroad spike and then hang it out of your back or your front door to get rid of anything negative or anything that's coming against you. 
GUIDANCE
WE ALL HAVE QUESTIONS AND MAY CONSIDER A CONSULTATION FOR HELP WITH CIRCUMSTANCES. AT ROOTS OF EARTH AUNTIE ROSALIND IS AVAILABLE AND OUR RECOMMENDED ROOTWORK, AND SHAMANIC HEALER. ITS WORTH THE EXTRA TIME TO LOOK INTO RECURRENT ISSUES, OR BLOCKS IN YOUR LIFE. AUNTIE ROSALIND HAS OVER 13 YEARS EXPERIENCE WITH HELPING AND VARIOUS OPTIONS FOR YOU. VIEW THE SESSIONS AND ROOTWORK OPTIONS AVAILABLE FOR YOUR ABUNDANCE, CAREER, LOVE, OR BLOCKED PATHS.
QUALITY, NON GMO, ROOT & HERBAL APOTHECARY! WE HONOR ORIGINAL TRUE TRADITIONS, IN SUN AND MOONLIGHT TO CREATE ROOTS OF EARTH OILS, SOAPS, SPRAYS,LOTIONS, CANDLES, AND FLOOR WASHES; FOR YEARS. FROM LOUISIANA AND NOW NORTHERN MICHIGAN. SPECIALS HAPPEN EACH MONTH SO FOLLOW US FOR DEALS.
 DISCOUNTS
AT ROOTS OF EARTH THERE IS A DISCOUNT CODE OF "ROOTS10" TO USE AT CHECKOUT FOR ALL ITEMS IN YOUR CART. YOU MAY FIND THE PERFECT ROOTS OF EARTH KIT THAT CONTAINS YOUR FAVORITE COMBINATION OF OILS, FLOOR WASHES, SOAPS, AND LOTIONS.
*ALL PRODUCTS ARE SOLD AS CURIO, AND NOT INTENDED TO DIAGNOSE, OR SERVE AS TREATMENT FOR MENTAL, PHYSICAL, OR LEGAL ISSUES. OUTCOMES ARE NOT THE RESPONSIBILITY OF ROOTS OF EARTH.
HAVE A BEAUTIFUL DAY AND COME AGAIN!
              LOVE FROM ALL OF US,