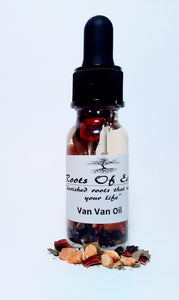 VAN VAN OIL FOR LUCK SUCCESS BY ROOTS OF EARTH
VAN VAN OIL 1/2 OUNCE BY ROOTS OF EARTH  
Van Van oil is definitely an old-style traditional recipe made from vetiver, citronella, lemongrass and or five finger grass. It is known to remove obstacles and bring more luck and prosperity. This is why Van Van is traditionally used inside the home to help change some of the barriers or negativity around others. Roots Of Earth Van Van oil also smells wonderful with the fresh, citrus kind of scent that is used in oil. At Roots Of Earth we follow traditional old style version of the Van Van Oil blend and it is one of the most popular oils we sell. 

USES
This Van Van oil blend can be put in your bath water, it can be put on the heel of your shoe, it can be put on your mojo bags, your talismans, and dabbed on your wallet or your purse. You can dab it on yourself anytime you are going out to have intentions of a successful outcomes. Van Van Oil also will work well with candle rituals on yellow or orange candles. If you desire to write a petition you can dab the corners of it with the van van oil and folded towards you and place it underneath the candle. In the old hoodoo tradition of conjure you can also recite Psalms 57 for Success at work and good luck. You can also continue your candle ritual for certain number of days; 7 is a good number of days.
GUIDANCE
WE ALL HAVE QUESTIONS AND MAY CONSIDER A CONSULTATION FOR HELP WITH CIRCUMSTANCES. AT ROOTS OF EARTH AUNTIE ROSALIND IS AVAILABLE AND OUR RECOMMENDED ROOTWORK, AND SHAMANIC HEALER. ITS WORTH THE EXTRA TIME TO LOOK INTO RECURRENT ISSUES, OR BLOCKS IN YOUR LIFE. AUNTIE ROSALIND HAS OVER 13 YEARS EXPERIENCE WITH HELPING AND VARIOUS OPTIONS FOR YOU. VIEW THE SESSIONS AND ROOTWORK OPTIONS AVAILABLE FOR YOUR ABUNDANCE, CAREER, LOVE, OR BLOCKED PATHS.

ABOUT US 
QUALITY, NON GMO, ROOT & HERBAL APOTHECARY! WE HONOR ORIGINAL TRUE TRADITIONS, IN SUN AND MOONLIGHT TO CREATE ROOTS OF EARTH OILS, SOAPS, SPRAYS,LOTIONS, CANDLES, AND FLOOR WASHES; FOR YEARS. FROM LOUISIANA AND NOW NORTHERN MICHIGAN. SPECIALS HAPPEN EACH MONTH SO FOLLOW US FOR DEALS.
 DISCOUNTS
AT ROOTS OF EARTH THERE IS A DISCOUNT CODE OF "ROOTS10" TO USE AT CHECKOUT FOR ALL ITEMS IN YOUR CART. YOU MAY FIND THE PERFECT ROOTS OF EARTH KIT THAT CONTAINS YOUR FAVORITE COMBINATION OF OILS, FLOOR WASHES, SOAPS, AND LOTIONS.
*ALL PRODUCTS ARE SOLD AS CURIO, AND NOT INTENDED TO DIAGNOSE, OR SERVE AS TREATMENT FOR MENTAL, PHYSICAL, OR LEGAL ISSUES. OUTCOMES ARE NOT THE RESPONSIBILITY OF ROOTS OF EARTH.
HAVE A BEAUTIFUL DAY AND COME AGAIN!
       LOVE FROM ALL OF US
Roots Of Earth