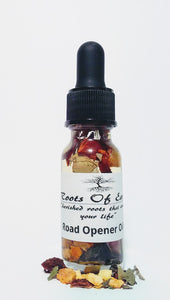 ROAD OPENER OIL FOR OPENING DOORS IN LIFE BY ROOTS OF EARTH
Road Opener Oil 1/2 Ounce
Road opener oil by Roots Of Earth is a powerful blend; of course it is steeped in tradition yet that is not the most popular aspect of Road Opener Oil- it contains herbs and roots specifically aligned to helping you break through any stuck type of situation. It does contain abre camino, sandalwood, five finger grass, and John conqueror root. These are powerful herbs blended together to help you in various types of situations that require obstacle to be removed. Your situation could involve a new love, a new job, or anytime you want to start a new way or new road in your life but it was previously blocked. This is the original intention of workers who created Road Opener Oil centuries ago.
USES
Road Opener Oil is versatile you can anoint yourself with it before going out to work or meet with people to discuss your business endeavors, or before a date to explore new options. You can also dab some on your altar, you can put some in your mojo bag or cloth and carry it in your pocket or your purse. You can also dab Road Opener Oil on your resumes, bank statements, or your prayer petitions for breaking through obstacles. Some in the Santeria, and Hoodoo traditions also pray to Papa Elegua so that he can control opening New Roads and paths. However, you choose to use this oil it is powerful and versatile oil.
GUIDANCE
We all have questions and may consider a consultation for help with circumstances. Aunt Rosalind is available at Roots Of Earth and recommended in root work, and shamanic healing. It is worth the time to look into recurrent issues, blocks, and patterns in your life; and Aunt Rosalind has over 13 years' experience with helping and non judgmental various options for you. As a trained Family Dynamics worker, and Counselor she is available to you for abundance, career, love, and family issues that require spirit, ancestors, shamanic healing, and root work services.
 
ABOUT US
Roots Of Earth was born purely from a higher guided sequence of light, ancestral visits, meditations, and downright visions of A root work apothecary to help heal our modern day need to realign to this beautiful earth rhythm. It is still possible to connect to what all of our ancestors knew so long ago. Time with conjure, roots, focusing on intentions of healing, and walking a better path can solve anything. With our New Orleans ancestors and guidance from Aunt Rosalind we forged ahead to do what right in our souls.
Please remember that all products here are non gmo and we have quite a nice selection of items to suit what you are looking for. Moon phases, pure roots, therapeutic grade essential oils, and even mortar and pestle are utilized here at Roots OF Earth when producing our products.
DISCOUNTS
At Roots OF Earth we offer a discount code of 10% at checkout. Enter ROOTS10 at checkout and use it whenever you come back, nice and simple! It can be applied to all items in your car…lotions, oils, floor washes, soaps, or kits. If you have any questions on custom products please message us.
*ALL PRODUCTS ARE SOLD AS CURIO, AND NOT INTENDED TO DIAGNOSE, OR SERVE AS TREATMENT FOR MENTAL, PHYSICAL, OR LEGAL ISSUES. OUTCOMES ARE NOT THE RESPONSIBILITY OF ROOTS OF EARTH.
Have a beautiful day and come again!
Love From All Of Us,
Roots OF Earth