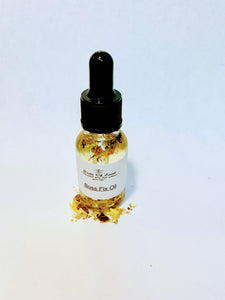 Boss Fix Oil For Gaining Control By Roots Of Earth
BOSS FIX OIL 1/2 OUNCE 
ROOTS OF EARTH BOSS FIX OIL IS A BLEND OF TRADITIONAL OILS TO HELP
PERSUADE THE OTHER PERSON IN YOUR FAVOR.THIS IS THE ORIGINAL OLD STYLE RECIPE. IT HAS BURDOCK,CINNAMON, CHAMOMILE, DAMIANA, AND BASIL AMONG OTHER OILS AND HERBS.
USES
THE USE OF THIS OIL IS TO HELP
WITH BOSS AND BETTER WORK DAYS, DOMINATION AND INFLUENCE, AND OF SELF IF YOU FEEL YOU NEED EXTRA SECURITY. TIMES THAT ARE LOFTY, OR NEW PARTNERSHIPS, AND MANIFESTING FOR PASSIONATE GOALS IN YOUR PHYSICAL ENDEAVORS. YOU COULD RUB THIS ON YOUR SHEETS, OR DAB ON YOUR SKIN, PUT SOME IN THE BATH, OR TRY SOME ON YOUR LOVER. TRY COMBINING IT IN YOUR LOTIONS OR OTHER MASSAGE OIL OR RUBBING IT ON YOUR ALTAR. STATE IT WITH PSALM 23 IN THE HOODOO/ SANTERIA FOLK MAGIC TRADITION. RED CANDLES ARE GREAT FOR THIS AS WELL, AND COMBINED WITH A PETITION OF YOUR INTENTIONS KEPT WITH THE CANDLE AS IT BURNS. 
ABOUT US 
QUALITY, NON GMO, ROOT & HERBAL APOTHECARY! WE HONOR ORIGINAL TRUE TRADITIONS, IN SUN AND MOONLIGHT TO CREATE ROOTS OF EARTH OILS, SOAPS, SPRAYS,LOTIONS, CANDLES, AND FLOOR WASHES; FOR YEARS. FROM LOUISIANA AND NOW NORTHERN MICHIGAN. SPECIALS HAPPEN EACH MONTH SO FOLLOW US FOR DEALS.
*ALL PRODUCTS ARE SOLD AS CURIO, AND NOT INTENDED TO DIAGNOSE, OR SERVE AS TREATMENT FOR MENTAL, PHYSICAL, OR LEGAL ISSUES. OUTCOMES ARE NOT THE RESPONSIBILITY OF ROOTS OF EARTH.
HAVE A BEAUTIFUL DAY AND COME AGAIN!
    LOVE FROM ALL OF US,
      ROOTS OF EARTH