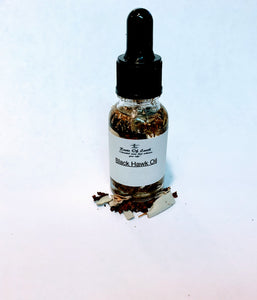 Black Hawk Oil Native Conjure New Orleans Spirit Connection Rootwork Hoodoo
BLACK HAWK OIL 1/2 OUNCE BY ROOTS OF EARTH 
ROOTS OF EARTH BLACK HAWK OIL IS A BLEND OF TRADITIONAL "SACRED MEDICINE" SAGE, CEDAR, TOBACCO, AND SWEETGRASS. WE ALSO ADDED A FEW OTHER ROOTS TO HELP EMPOWER AND PERSUADE. BLACK HAWK IS WELL KNOWN FOR HIS BATTLES. THIS OIL IS PURE AND GREAT FOR WORKING WITH THIS NATIVE SPIRIT OR OTHER SPIRIT WORKS NEEDING JUSTICE OR PROTECTION.
USES
BLACK HAWK OIL IS GOOD FOR LEGAL ISSUES AND JUSTICE WORKS. ALSO FOR WHEN YOU SEEK PROTECTION. PERSUASION ON YOUR BEHALF. ADD THIS OIL TO A WHITE OR BROWN CANDLE AND PRAY. PRAY FOR SPIRIT OF BLACK HAWK IF YOU FEEL CALLED TO OUR YOUR OWN NATIVE INDIGENOUS HELPERS. CONTINUE TO PRAY AND SPEAK YOUR NEED FOR PROTECTION AND POWER IN YOUR SITUATION. 
QUALITY, NON GMO, ROOT & HERBAL APOTHECARY! WE HONOR ORIGINAL TRUE TRADITIONS, IN SUN AND MOONLIGHT TO CREATE ROOTS OF EARTH OILS, SOAPS, SPRAYS,LOTIONS, CANDLES, AND FLOOR WASHES; FOR YEARS. FROM LOUISIANA AND NOW NORTHERN MICHIGAN. SPECIALS HAPPEN EACH MONTH SO FOLLOW US FOR DEALS.

 
DISCOUNT CODE IS ROOTS10 to save 10% at checkout!
*ALL PRODUCTS ARE SOLD AS CURIO, AND NOT INTENDED TO DIAGNOSE, OR SERVE AS TREATMENT FOR MENTAL, PHYSICAL, OR LEGAL ISSUES. OUTCOMES ARE NOT THE RESPONSIBILITY OF ROOTS OF EARTH.
HAVE A BEAUTIFUL DAY AND COME AGAIN!