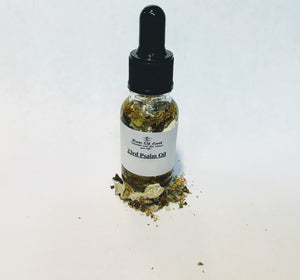 23 rd Psalm Oil FOR PRAYER HOODOO AND ROOTWORK
ROOTS OF EARTH 23rd Psalm OIL 1/2 OUNCE 
Roots of Earth 23rd Psalm Oil is an oil used to help you with rituals and workings/rootwork using the Psalms. It is more specific than the All Saints Oil. The roots, herbs, and oils are conjured with intention to honor the ancient scriptures, and also your conjure and rootwork. It has frankincense, vetiver, patchouli, and several other herbs to give some higher spiritual elevation in your needs and life circumstances.  
USES
THE USE OF THIS OIL IS TO HELP WITH EMPOWERING YOUR PRAYERS AND INCREASING THE INTENTIONS WHEN YOU SPEAK THE 23RD PSALMS. WHAT YOU WANT. YOU COULD DAB IT ON YOUR BIBLE, PUT SOME ON A CLOTH AND CARRY IT WITH YOU, USE ON WHITE CANDLES DURING YOUR ROOTWORK. STATE IT WITH PSALM 23 IN THE HOODOO/ SANTERIA FOLK MAGIC TRADITION. WHITE CANDLES ARE GREAT FOR THIS AS WELL, AND COMBINED WITH A PETITION OF YOUR INTENTIONS KEPT WITH THE CANDLE AS IT BURNS. 


GUIDANCE
WE ALL NEED GUIDANCE AND CLARITY AT TIMES. Surely it could be at a time of chaos, suffering, or a need for clarity about our unique circumstances.
ABOUT US 
QUALITY, NON GMO, ROOT & HERBAL APOTHECARY! WE HONOR ORIGINAL TRUE TRADITIONS, IN SUN AND MOONLIGHT TO CREATE ROOTS OF EARTH OILS, SOAPS, SPRAYS,LOTIONS, CANDLES, AND FLOOR WASHES; FOR YEARS. FROM LOUISIANA AND NOW NORTHERN MICHIGAN. SPECIALS HAPPEN EACH MONTH SO FOLLOW US FOR DEALS.
AT ROOTS OF EARTH THERE IS A CODE OF ROOTS10 TO SAVE 10% AT CHECKOUT 
*ALL PRODUCTS ARE SOLD AS CURIO, AND NOT INTENDED TO DIAGNOSE, OR SERVE AS TREATMENT FOR MENTAL, PHYSICAL, OR LEGAL ISSUES. OUTCOMES ARE NOT THE RESPONSIBILITY OF ROOTS OF EARTH.
HAVE A BEAUTIFUL DAY AND COME AGAIN
LOVE FROM ALL OF US,
ROOTS OF EARTH